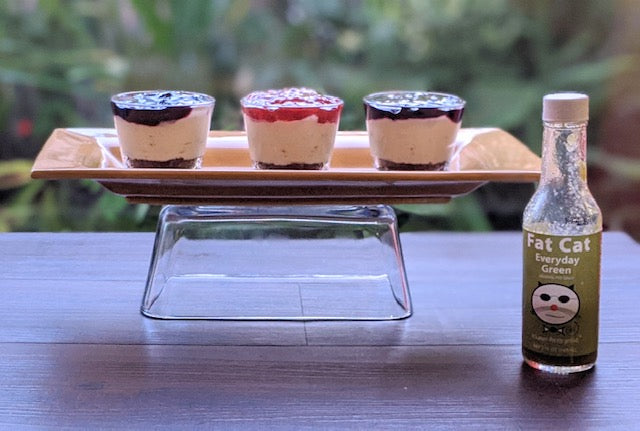 Berry Sweet Jalapeño Purr-fectinis
Recipe created by Aniceris Cancel
Student of the Second Harvest Food Bank Culinary Training Program
Prep Time 30 minutes
Chill Time 4 hours
Total Time 4 hours 30 minutes

Ingredients:
Cream Cheese Filling:
2 Tbsp whole milk
2 tsp vanilla extract
1/4 cup sugar
8 oz (1 cup) cream cheese, room temperature
1 1/4 cup heavy cream
1/4 cup confectioner's sugar
Crunchy Layer:
1 cup chocolate cereal (Cocoa Puffs) crushed
4 oz unsalted butter
1 1/2 tsps sugar
Jalapeño Jelly:
1/2 cup water
1/2 cup sugar
1 1/2 tsp pectin
Blueberry Jam:
1 cup blueberries
1 cup water
1 cup sugar
2 tsp pectin
Strawberry Jam:
1 cup strawberries, chopped
1 cup Water
1 cup Sugar
2 tsp Pectin
Instructions:
For the Cream Cheese Filling:
In a mixing bowl add the cream cheese, milk, vanilla extract and sugar, beat with hand mixer or stand mixer with a whisk attachment until well mixed, then  set aside.
In a very cold bowl, whisk heavy cream and confectioner sugar on medium-low until thick and smooth, do not walk away, then fold into the cream cheese mixture until smooth.
Keep in the fridge until ready for mix and assembly.
For the Crunchy Layer:
Melt butter in the microwave in 30-second increments until melted (stir with spoon after each cycle to distribute heat evenly).
Fill a zip bag with chocolate cereal and bang on it with a pan or mallet to crush the cereal into crumbs (can also be done by pulsing in a food processor 6-8 times to reach the same consistency).
Pour crushed cereal into a bowl, add melted butter and stir until well-blended and cereal has softened some, almost to the consistency of butter.
For the Jams:
In a medium saucepan, bring water, strawberries/blueberries and sugar to a heavy boil over medium-high heat.
Once boiling, turn down heat to low, add pectin and simmer and stir until  mixture thickens.
At that point, turn off heat, let it col and set aside until it's time to assemble the finished dish.
For the Jalapeño Jelly:
In a small saucepan add Fat Cat Everyday Green Jalapeño Hot Sauce, water and sugar and bring to a boil.
Once boiling, add pectin and stir until well-incorporated and slightly thickened.
Strain/sieve the mixture into a bowl, add a pinch or two of sugar, and refrigerate.
Once cooled, fold into the cream cheese mixture a little at a time until well-incorporated. Taste as you go until you reach your desired heat level -- the more jelly used, the spicier the dish will be.
Layer Assembly:
In 3 oz. serving cups, add 1-2 tablespoons of the crushed chocolate cereal and spread out evenly over the bottom with a spoon.
Fill a gallon zip bag with the jalapeño cream cheese mixture, cut the tip of the bag and carefully pipe the mixture into the cup, on top of the crushed cereal layer, until it fills all but the top 1/4 inch of the cup.
Top the cream cheese mixture with strawberry or blueberry jam.
Cover cups with plastic wrap and chill for at least 4 hours (or overnight) to set and then serve.