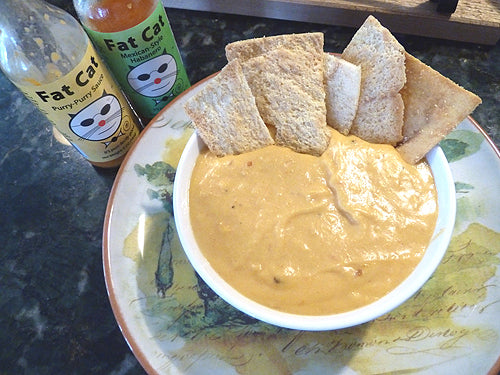 Big Dog Tina's Fabulous Fat Cat Beer and Cheese Dip
Our good friend Big Dog Tina came up with this oozy-boozy game day dip, which uses Fat Cat Purry-Purry Sauce as its base. It takes only minutes to put together and it doubles up (or triples up) easily for larger crowds. Thanks, Tina!

Ingredients:

1/2 stick of butter
3 tablespoons of all-purpose flour
1 clove of garlic, minced
1/2 cup beer (suggestions include Dos Equis Amber Ale for a mild beer flavor or Sierra Nevada Pale Ale for a strong hoppy taste)
1 cup shredded yellow cheddar cheese (mild, medium or sharp, depending on your taste)
3 tablespoons Fat Cat Purry-Purry Sauce
1/2 teaspoon freshly squeezed lemon juice
salt and pepper to taste

Instructions:

In a nonstick pan or pot, melt the butter over medium heat. Once melted, add the flour and stir well to create a roux. Cook roux for 1-2 minute. Do not let it darken (keep it blond).

Add garlic and saute in roux until fragrant, about 30 seconds. Add beer and stir to combine beer with roux. Bring mixture to boil and let it thicken some, about 1-2 minutes, stirring continuously.

Take pot/pan off heat and add cheese, stirring continuously into it has melted and incorporated completely without lumps into the liquid.

Add Fat Cat Purry-Purry Sauce, and stir to combine well.
For a spicier version, add a 1-2 tablespoons of Fat Cat Mexican-Style Habanero Hot Sauce.

Serve in a bowl alongside tortilla or pita chips.