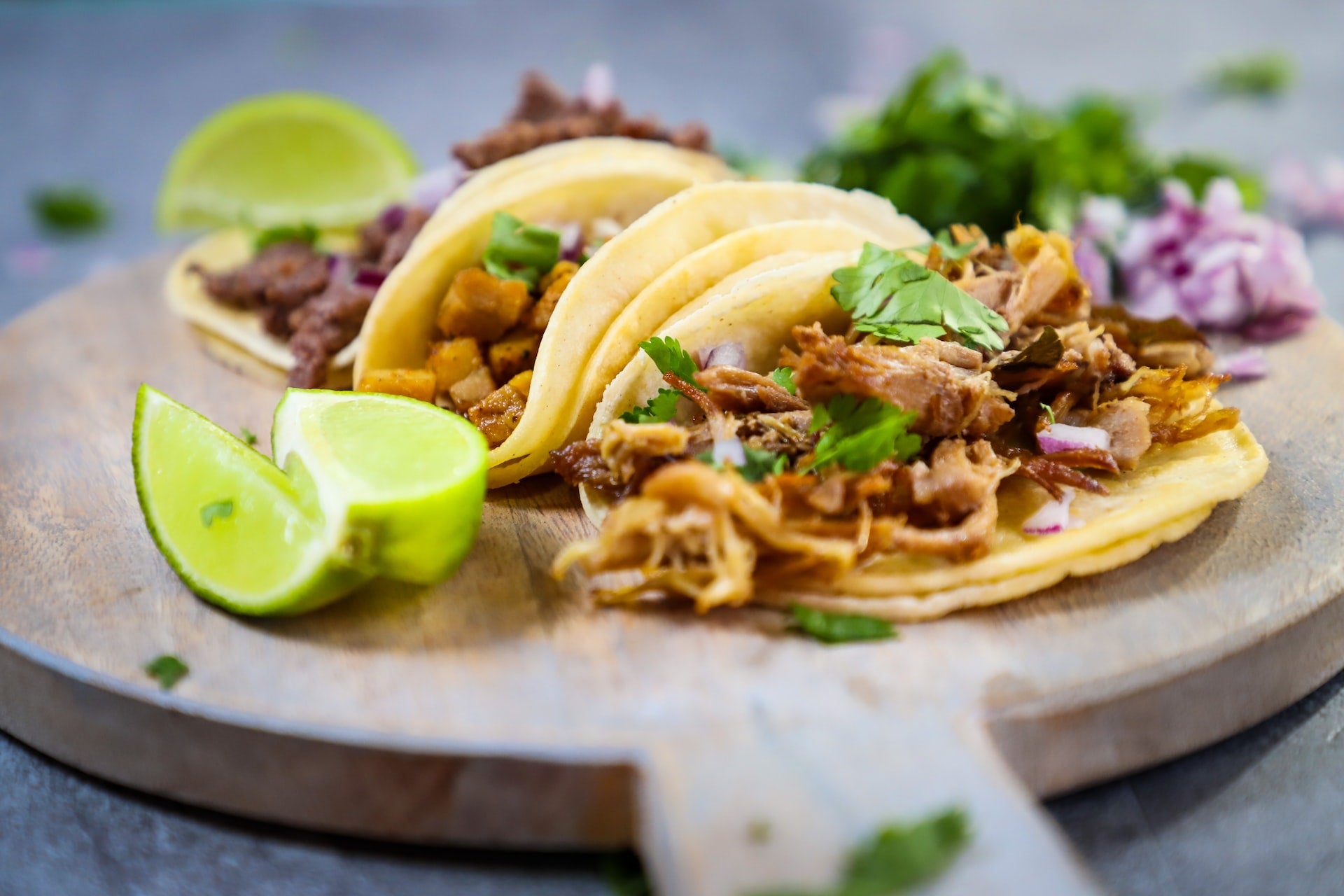 Cochinita Pibil (Pork Shoulder Braised with Orange and Habanero) with Pickled Red Onions
A great dish for parties, tailgates, fancy dinners (serve it over rice alongside some black beans, for example) and more. Feel free to ease up or increase the Fat Cat Mexican-Style Habanero Hot Sauce used here, in case you want your dish to be less spicy or spicier, though though it should be said that a good portion of that heat will cook out in the process, leaving you with lots of pepper flavor and a generous back heat that complements the other flavors found here.
Ingredients:

3-6 lbs. boneless pork shoulder, cut into 2- and 3-inch chunks
2 cups freshly squeezed orange juice (or two cups of bottled, preferably one with heavy pulp)
Juice of 2 limes
1 tablespoon dried oregano
1 teaspoon ground cumin
1 tablespoon salt
10 cloves of garlic, peeled
2+ bottles Fat Cat Mexican-Style Habanero Hot Sauce
1/4 cup achiote seeds (available in most Latin grocery stores or in Latin aisle of store)
1/4 cup vegetable oil
corn or flour tortillas
1 cup Mexican-style pickled red onions (recipe below)
1 cup cilantro leaves, chopped
1 cup chopped white onion

Instructions:

Place achiote seeds and oil in a cold pot and heat them together over medium heat until mixture starts to sizzle and the oil turns dark orange-red in color, about 5-10 minutes. When it reaches that color, turn off heat and set aside to cool. Take care not to burn achiote seeds, as they become bitter.

Add orange juice, lime juice, garlic, oregano, cumin, salt, 2 bottles of Fat Cat Mexican-Style Habanero Hot Sauce and achiote-oil mixture (with seeds) to blender and blend until smooth, about 2-3 minutes.

Place pork and blended mixture in a slow cooker, stir to coat pork well, and then put on top and cook on low 8 hours, or until pork is fall-apart tender.

When done, remove pork from slow cooker, leaving liquid behind (do not discard liquid), and shred meat well with two forks.

Note: Do this on a non-reactive surface or a stainless steel mixing bowl, as the achiote oil in the sauce will stain whatever it touches.

Once shredded, return pork to slow cooker and mix well with liquid. You want a thick, near-soupy, succulent consistency here.

To serve, heat tortillas until pliable and top each with 1/3 cup of pork mixture, 2 tablespoons of Mexican-Style Pickled Red Onions, some chopped cilantro and onion and a splash more Fat Cat Mexican-Style Habanero Hot Sauce.
Side Recipe: Mexican-Style Pickled Red Onions
Ingredients:

1 large red onion, halved and sliced thinly
1 tablespoon salt
1 tablespoon sugar
1/4 cup white vinegar
Juice of 1 lime

Instructions:

Place onion in pot, cover with water and boil for 5 minutes, or until it just starts to soften. Remove from heat.

Mix salt, sugar, vinegar, lime juice and 1/2 cup hot water from the pot in which the onions were boiled, in a separate bowl until sugar and salt have fully dissolved. Add another 1/4 cup hot water from pot to help dissolve salt and sugar, if needed.

Strain onions from water and place in bowl with salt-sugar-vinegar-lime-juice mixture. Stir well to combine.

Let mixture sit for at least 1 hour on counter at room temperature, or until the red color of the onions has begun to seep into the white part of the onion.

Drain onions and use.