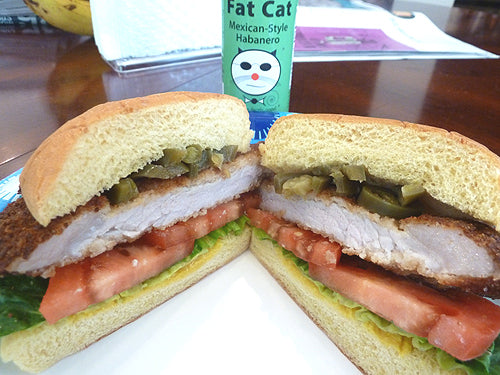 Habanero-Brined Pork Sandwich
As with many dishes involving lean proteins, we've opted to brine the pork here (you can use turkey or chicken too) to ensure our pork remains moist after cooking and also to impart flavor into the meat -- specifically Fat Cat Mexican-Style Habanero Hot Sauce, which adds some pleasing habanero heat to the meat as well as an underlying flavor of its base chile.
Ingredients:

For the brine:
1 quart of water
1/4 cup salt
1/4 cup sugar
3 tablespoons Fat Cat Mexican-Style Habanero Hot Sauce

For the sandwich:
1/2 lb pork chop, preferably the loin cut
2 eggs
1 cup unseasoned bread crumbs
4 potato rolls or hamburger rolls
1 cup vegetable oil
2 tablespoons yellow mustard
2 tablespoon Fat Cat Mexican-Style Habanero Hot Sauce
12 pickle chips or 12 slices of pickled jalapeno
4 leaves of butter or iceberg lettuce
1 tomato, sliced into 1/4-inch thick slices

Instructions:

Divide the pork into four equal parts. Place a piece of pork between two pieces of plastic wrap and pound flat with a mallet or large pan until it's about 1/4-inch thick. (The cutlet should be large, by the way — this isn't a dainty sandwich!) Repeat for remaining pieces of pork.

In a large container, whisk together the water, salt, sugar and 3 tablespoons of Fat Cat Mexican-Style Habanero Hot Sauce until the salt and sugar have dissolved completely in the water. Add the flattened pork, give it a stir and then place the container in the refrigerator for 1 hour.

After 1 hour, remove the pork from the brine and pat dry with paper towels.

In a shallow bowl, crack and beat the eggs together with 1 more tablespoon of Fat Cat Mexican-Style Habanero Hot Sauce.

In a third bowl, add the breadcrumbs.

Using a fork or your fingers, dip a pork cutlet into the egg mixture, coating well, and then dredge the cutlet into the breadcrumbs. Repeat for remaining cutlets.

Heat a wide pot over medium-high heat and add oil. When oil is shimmering and hot (or measures 350F on a thermometer), slide in pork cutlets into the pan and fry until golden brown and cooked through, about 4 minutes per side. Depending on size of pot, you may have to do this in batches.

Remove cutlets and drain on paper towels.

To build the sandwich, first blend the mustard with the remaining 1 tablespoon of Fat Cat Mexican-Style Habanero Hot Sauce in a small bowl. Spread mustard mixture over the bottom bun, top with a leaf of lettuce, a slice or two of tomato, the pork cutlet and a few pickle slices or pickled jalapeno slices, then top with top bun and serve.

Recipe makes 4 sandwiches.