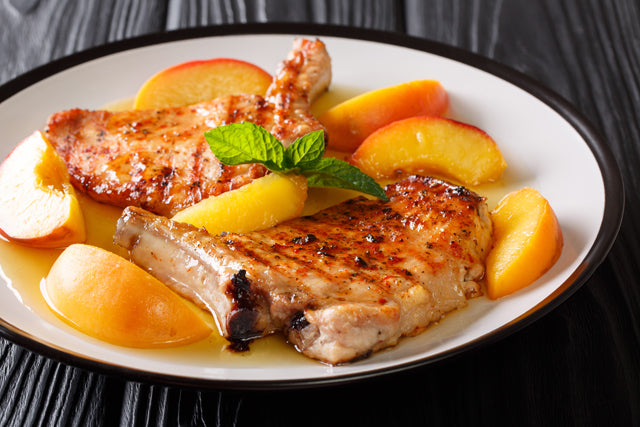 Pork Chops with Spicy Peach Maple Bourbon Pan Sauce
A quick weeknight meal that's both satisfying and elegant -- and it comes together in under 20 minutes. Works great with chicken or turkey as well, in case you don't eat pork. Serve with steamed asparagus on the side.
Ingredients:
4 4-6 oz pork loin chops
1/4 cup white wine
1 bottle Fat Cat Peach Maple Bourbon Hot Sauce & Glaze
1 peach, sliced into 8-12 slices (optional)
1 tsp olive oil
salt and pepper taste
Instructions:
Score the fat cap on the pork chops a few times, ensuring your cut goes through the fat and membrane underneath. This will prevent the chops from curling up as they saute.
Place chops on a plate and season both sides with salt and pepper. Then with the palm of your hand or a meat mallet, give them a few pounds so they are all equal in thickness. They don't have to be thin, just even, so they all cook at the same time.
(If using chicken or turkey, then cut the poultry into medallions that are of equal thickness and pound out if needed.)
Heat saute pan over medium heat and add oil. Once pan and oil are hot, sear chops on both sides, about 2-3 minutes per side, or until each side has browned some.
Remove chops from pan and set aside on a clean plate.
Deglaze pan with wine, making sure to stir any bits that have stuck to the pan into the liquid with a spoon.
Add Peach Maple Bourbon Hot Sauce & Glaze to pan and stir to incorporate. Let mixture simmer for 1-2 minutes to meld the flavors.
Return pork chops to pan, along with any accumulated juices that have appeared on the resting plate, and let everything simmer together for another 2-3 minutes more or until chops have cooked through (or have reached an internal temperature of 145F).
As chops simmer, flip them over a few times so the sauce coats them well.
Turn off heat and plate chops, 1-2 per person depending on size. Spoon pan sauce over chops, decorate plate with some peach slices if desired, and serve.