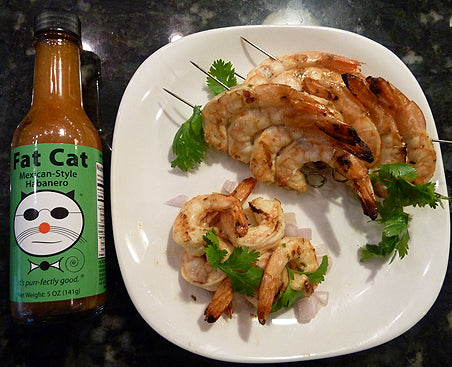 Grilled Habanero Tequila-Lime Shrimp
Simple to make and full of satisfying flavor and spice, this punchy party plate makes a great pass-around appetizer or a wonderful light meal when served alongside rice and beans or sauteed veggies.
Ingredients:
4 tablespoons lime juice
4 tablespoons tequila
2-4 tablespoons
Fat Cat Mexican-Style Habanero Hot Sauce
(depending on desired spice level)
2 tablespoons extra virgin olive oil
¼ teaspoon chili powder
½ teaspoon salt
1 tablespoon cilantro chopped
1 pound peeled and deveined shrimp
Instructions:
Whisk together all ingredients except shrimp in a bowl, starting with 2 tablespoons of Fat Cat Mexican-Style Habanero Hot Sauce, and taste the marinade. At this point, if you want to add more heat to it, add more Fat Cat Mexican-Style Habanero Hot Sauce, one tablespoon at a time, until desired heat level has been reached. Keep in mind that the marinade itself will be about three to four times spicier than the finished product.
Transfer mixture to a zip bag, add shrimp and stir to coat the shrimp well with the marinade. Let the mixture sit in the refrigerator for at least 1 hour but no more than 3 hours. (As shrimp sits, the acids in the marinade will start to cook them slightly, turning them somewhat opaque — this is normal.)
Set your grill to medium high. Once the shrimp have marinaded and the grill is hot, place your shrimp on the grates and let them sear (untouched) for about 1-2 minutes, then flip and sear for another 1 minute on the other side. Shrimp will be cooked once they've turned pink and have curled some and become slightly charred.
Note 1: If you'd like to skewer the shrimp (though not necessary), and are using wooden skewers, please soak the wooden skewers in water for 1 hour prior to grilling. Then remove the shrimp from the marinade and fit them on the skewers, leaving about 1/4-inch of space between each shrimp. Please allow 30 seconds more of cooking time per side if skewering shrimp.Note 2: The recipe works just as well with scallops.