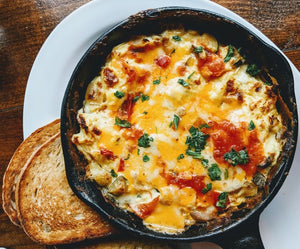 Smoky Bacon Sriracha Mac and Cheese
A spicy, smoky and savory take on the classic comfort food.
Ingredients:
1 lb elbow macaroni or another pasta of choice
1/2 cup panko breadcrumbs
3 tablespoons butter
3 cloves garlic, minced
2 cups whole milk
2 tablespoons flour
1 tablespoon sea salt
2 cups shredded gouda cheese
4 oz. cream cheese
4 strips of bacon
3-4 tablespoons Fat Cat Bacon-Flavored Sriracha Chili Garlic Sauce
salt and pepper

Instructions:

Heat oven to 375F and grease a medium sized casserole dish with 1 tablespoon of butter.

Bring a pot of water to boil, add 1 tablespoon of sea salt to water and cook pasta, draining about 1 minute short of printed cooking time. Save 1/2 cup of pasta water.

As pasta cooks, slice bacon into 1/4-inch strips/lardons and saute in frying pan over medium heat until crispy and brown, about 5-7 minutes. By this point it also should have  rendered off about 2-3 tablespoons of fat.

Remove bacon from pan and set aside.

In same pan, add flour and stir until well combined with bacon fat. Cook flour-bacon fat mixture over medium heat for one minute, add garlic and cook another minutes, and then drizzle in milk in 1/4 cup increments, stirring constantly with a whisk, until all milk is well blended and a thick white sauce has been formed.

Simmer white sauce for one minute and then turn off heat and mix in both cheeses, bacon and 2 tablespoons of Fat Cat Bacon-Flavored Sriracha until well combined. Taste for salt and pepper, adjusting as needed, then fold in cooked pasta and stir to combine.

Pour mixture into casserole dish and spread out evenly.

Melt remaining butter in microwave and combine well with bread crumbs. Spread evenly over top of casserole and bake for 30 minutes or until top has crisped and browned evenly and noodles and sauce are bubbling.

Cool for 10 minutes on counter. Drizzle with remaining Fat Cat Bacon-Flavored Sriracha and serve.
Note: Works great with steamed and chunked cauliflower in place of noodles too.
---