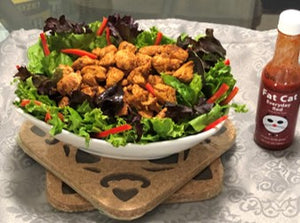 Spicy Chicken Salad
Recipe created by Dorothy Dubuisson
Student of the Second Harvest Food Bank Culinary Training Program
Ingredients:
2 tbsp of olive oil
2 tbsp of Fat Cat Everyday Red Jalapeno Hot Sauce
1/2 tsp of salt
1/2 tsp of pepper
1/2 lb boneless, skinless chicken, chunked
1 bunch romaine lettuce, chopped
1/2 bag of mixed spring greens lettuce
1/4 cup of red bell pepper, sliced
1/4 cup carrots, shredded
1/2 cup flour
1/2 cup Ranch dressing, on the side (optional)
Instructions:
Mix half the salt and pepper with the flour and coat the chicken chunks with the flour mixture.
Heat half the oil in a saute pan over medium heat. Once hot, add the chicken and cook through.
While the chicken cooks, whisk together the remaining oil, salt, pepper and Fat Cat Everyday Red Jalapeno Hot Sauce until combined to make a salad dressing.
Once chicken is done, drain on paper towels.
Then, in a large bowl, toss together the lettuces, carrots and bell pepper. Top with chicken and drizzle with salad dressing. Serve with Ranch dressing on the side.
---