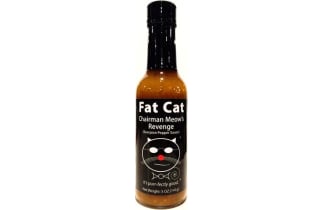 Popular website EZVID Wiki has selected Fat Cat's Chairman Meow's Revenge: Scorpion Pepper Sauce as one of the "10 Best Scorpion Pepper Hot Sauces" on the market. Fat Cat's Sauce came in #8 on the list.
"We spent 27 hours on research, videography, and editing, to review the top options for this wiki," states the EZVID Wiki page on the topic.
"Scorpion peppers, on average, contain a blistering 1.2 to 1.4 million Scoville heat units; some have even broken 2 million Scovilles. Trying to eat one is like locking lips with a flamethrower, but sauces that feature these little stingers vary in heat depending on how much is added and whether extract or crushed peppers are used. Tastes vary, as well, according to flavor pairings."
Of Chairman Meow's Revenge specifically, the article and video said the following: "Fat Cat Chairman Meow's Revenge isn't the hottest sauce out there, but it may be one of the most delicious. Its sassy blend of red peppers, onions, garlic, cilantro, and mustard help it pair perfectly with all types of meat, from steak to chicken to seafood."
To see the full list or view the EXVID video on the topic, please click here.