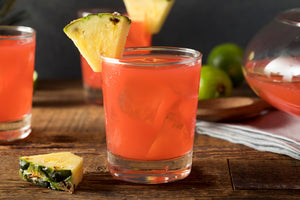 Fat Cat Rum Punch
A solid rum punch with just a hint of spice and a favorite at some of the Gaspirilla events we'd held in Tampa in days past. Plus, the ingredients can be easily scaled up to pitcher-size for parties -- just keep the proportions the same.

Ingredients:

1 oz. lime juice
2 oz. grenadine
2 oz. dark rum
1 oz. white rum
2 oz. pineapple juice
2 oz. orange juice
1/4-1/2 tbsp Fat Cat Mexican-Style Habanero sauce (depending on heat level)

Instructions:

Mix ingredients in a shaker and serve over ice in a Collins glass. Garnish with a slice of pineapple or a slice of chili pepper (jalapeno for mild, habanero for spicy) if desired.
---