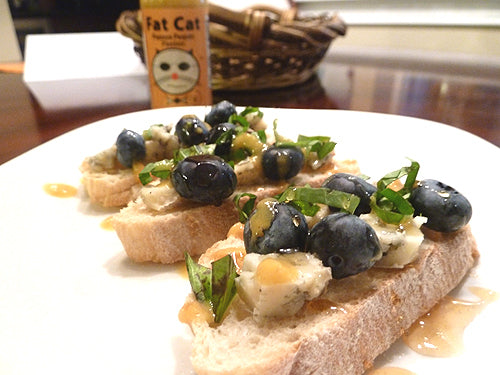 Blueberry, Blue Cheese & Basil Crostini with Honey & Papaya Pequin Passion Hot Sauce
In this elegant crostini dish, bread gets topped simply by a handful of quality ingredients, including blueberries, basil, honey and Fat Cat Papaya Pequin Passion Hot Sauce. Purr-fect for a passed appetizer at a cocktail party.
Ingredients:
4 slices of French bread, about 1/2-inch thick
3 tablespoons fresh blueberries
2 tablespoons blue cheese, cubed or in large crumbles
1 teaspoon of honey
1 teaspoon of
Fat Cat Papaya Pequin Passion Hot Sauce
1 teaspoon of fresh thai basil, chiffonade into 1/8-inch ribbons
Instructions:
Toast the bread slices so the outside had a little crunch to it but the inside stayed soft and chewy — about 3 minutes total in the toaster oven.
Once toasted, spread the bread out on a serving platter or plate.
Cover each piece with four to five blueberries, scattered about. Fill in the gaps between the berries with three or four small chunks of blue cheese.
Sprinkle the basil slices evenly over each crostini. Then drizzle the honey over the bread so it covers everything evenly in an elegant stream, and then do the same with the Fat Cat Papaya Pequin Passion Hot Sauce.