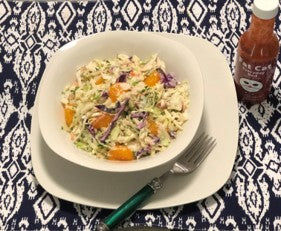 Spicy Citrus Slaw
Recipe created by Dorothy Dubuisson
Student of the Second Harvest Food Bank Culinary Training Program
Ingredients:
16 oz. bag coleslaw mix
1/2 tsp salt
1 tbsp cilantro, chopped
2 tsp apple cider vinegar
1 can drained mandarin oranges (11 oz., reserve 2 tbsp. of syrup)
1 cup of mayonnaise
Instructions:
Mix salt, Fat Cat Everyday Red Jalapeno Hot Sauce and apple cider vinegar vinegar in a large bowl.
Add mayonnaise and cilantro and stir to combine.
Ad remaining ingredients and stir to blend well, ensuring all parts are covered with the dressing.
Leave for 30 minutes in the fridge so the flavors meld and serve.
---