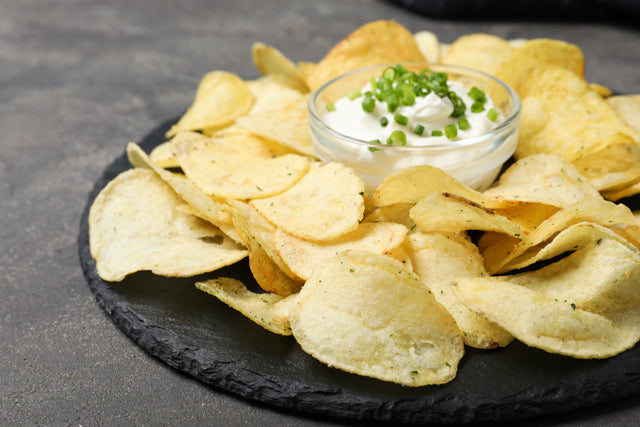 A delicious dip that's sure to draw raves at your next pot luck, tailgate or cookout. Great for game day eats too!
Ingredients:
1 cup sour cream
1 cup mayonnaise
1/4-1/2 cup Fat Cat Everyday Green Jalapeno Hot Sauce
1 green onion, sliced
1/2 jalapeno, sliced
1 tsp onion powder
1 tsp garlic powder
1 tsp dried oregano
1 tsp dried dill
1 tsp lemon juice
salt and pepper to taste
chips (potato, tortilla, pita or other)

Instructions:
Mix all ingredients, along with 1/4 cup Fat Cat Everyday Green Jalapeno Hot Sauce, in a mixing bowl until well combined. Taste and add more sauce if you want a stronger taste, up to 1/2 cup of sauce, and adjust for salt and pepper if needed.
Cover and let sit in fridge for 1 hour so flavors can meld and then transfer to serving bowl, top with sliced onions and/or jalapenos.
Serve with chips of your choosing.
Recipe can be scaled to serve more people.
For a lighter, tangier version, use Greek yogurt instead of sour cream (or mix half sour cream, half yogurt).
For a spicier version, use our Mexican-Style Habanero Hot Sauce or our Chairman Meow's Revenge Scorpion Pepper Sauce.